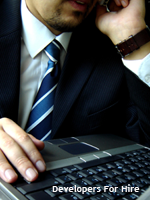 Developers For Hire
We are sometimes receiving question about hiring experienced XOOPS developers for custom work for a fee.
Therefore we've set this module so XOOPS developers can submit their information to following categories:
* Modules
* Themes
* Installations
* Core Modifications
Please include a short description about the offered services.
NOTES:
1) We will approve here only developers who are supporting and promoting XOOPS
2) No warranties of any kind from XOOPS. Any contracts are strictly between the client and the developer.
If you are a client and would like to post a paid project for bidding, please add it to our "
Bounties
":
Browse links by alphabetical listing
[
0
|
1
|
2
|
3
|
4
|
5
|
6
|
7
|
8
|
9
|
A
|
B
|
C
|
D
|
E
|
F
|
G
|
H
|
I
]
[
J
|
K
|
L
|
M
|
N
|
O
|
P
|
Q
|
R
|
S
|
T
|
U
|
V
|
W
|
X
|
Y
|
Z
]
Main Category Listings
There are 4 Categories and 1 Links listed

New Today

New 3 Days

New This Week

Over 1 Week